"사랑했어, 널 사랑했다구."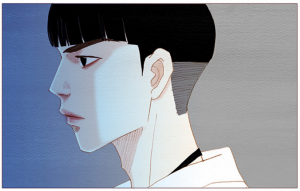 오디션 방 뒤 쪽에 서 있는 우연이는 심장이 마비된  듯 꼼짝할 수 없었다. 기정이의 심각한 표정을 바라보며 두근거리는 그의 목소리만 들려왔다. 바로 그 순간에 기정이는 계속 고백을 하고 있었다.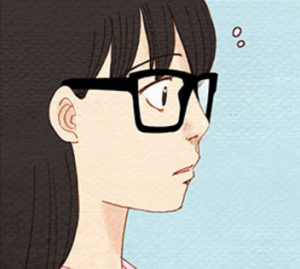 "미친 듯 사랑했어, 항상, 처음부터. 네가 좋았어. 내 맘을 쓰레기 같이 버린 너. 근데 웃긴 거 하나 알려줄까? 쓰레기 같은 내 마음 땜에 아직도 네가 좋아. 말도 안 되지? 나도 이해 안 가. 널 사랑해."
오디션이 끝났고 모두가 박수를 쳤다. 오디션을 보고 있는 많은 드라마 스탭들은 신나게 대화를 시작했고 가슴이 설렌 우연이가 잠시 동안 숨을 쉴 수 없었다. 그때 우연이의 인생에는 우연히 일어났던 일이 참 많다는 생각이 들었다.
"오디션은 웹툰에서 나온 장면으로 할 거예요?" 아까 점심을 먹으면서 우연이는 감독에게 물어봤었다. 오디션 방으로 기정이가 다가오고 있던 것을 봤을 때 얼른 숨었던 우연이는기정이가 다른 일 때문에 회사에 왔을 거라고 생각했었다. 그런데 오디션이 시작되었을 때 우연이는 확실히 알게 되었다. 우연이가 쓴 웹툰으로 만들어질 드라마의 남자 주인공 오디션을 하러 온 것이었다.
성격이 좋은 감독은 기쁜 미소를 지으며 자세히 설명해 주었다. 우연이는 착한 감독이 참 마음에 들었다는 생각했다.
"당연히 웹툰에서 나온 대본으로 처음부터 오디션을 하기로 했죠. 작가님이 아주 좋아하실 걸요! 전 남자친구가 갑자기 다시 나타나서 아직도 사랑한다는 고백을 하는 장면인데 스탭들 모두가 동의한 거에요. 남자 주인공 오디션이면 꼭 그 장면이라고요. 특별히 심쿵하게 하는 장면을 정해야한다고 생각했었는데. 그 남자의 진심을 느낄 수 있는 장면. 이번에는 마지막 라운드라 남배우 두 명만 오디션을 할 예정이거든요."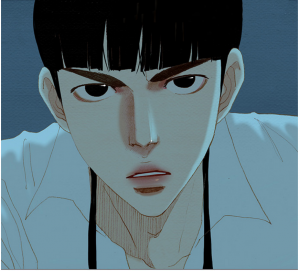 남자 주인공 오디션이 있을 방에 들어온 우연이는 남배우 한 명을 본 다음에 기정이
가 들어온 것을 알게 되었다.  숨고 싶은 마음에 뒤쪽으로 뛰어왔기 때문에 아직 기정에게 발견되지 않았지만 기정이가 대본을 연기했을 때 우연이는 기정이와 서로 눈이 마주친 줄 알았다.
어떻게 할까? 어떡해?
두근 두근. 우연이와 기정이 사이에 드라마 스탭들이 숨 막히게 많아서 잘 안 보이는 상황이었다. 불편한 우연이는 기정이와 눈 맞춘 것을 상상한 건지 실제로 한 건지 갑자기 확실하지 않았다. 눈이 마주친 것이 없었겠지? 맨 앞에 서 있는 감독이 기정이의 매니저인 듯 보이는 키가 크고 아주 똑똑하게 보이는 남자와 진지하게 얘기하고 있었다. 기정이가 남자 주인공으로 정해진 것 같다는 생각이 들자 우연이는 도망치고 싶었다.
토할까 봐서 화장실을 찾으러 우연이가 뒷문으로 조용히 나갔다. 조금 걸어 가 보니 복도와 맞붙은 휴게실이 보여서 우연히 찾아 들어간 우연이는 손을 떨며 자동판매기에서 사이다 한 병을 샀다.
뒤에서 남자다운 목소리가 갑작스럽게 갑자기 들려왔다.
"너도 기억나? 우리 처음 만났을 때 자동판매기 앞에서 우연히 만났잖아."
한 모금 아니라 원샷을 하듯 꿀꺽꿀꺽 들이키고 있는 우연이는 사이다를 확 내뱉었다. 뚜벅뚜벅. 휴게실에 기정이가 걸어 들어왔다. 옛날보다 더 멋지고 잘 생긴 것 같은 그 모습이 나타나서 우연이의 마음을 흔들었다. 기정이는 조금 변했었지. 더 남자답게, 살짝 더 뻔뻔하게.
결국에는 휴게실에 서 있는 그가 우연이의 인생 속으로 들어와 버렸다. 말도 없이 서로 바라보았다.
잘 지내냐고, 내 생각했냐고, 연애 다시 해봤냐고. 물어보고 싶은 말들 모두가 우연이의 턱 끝까지 올라왔지만 차마 내뱉지 못했다.
"너 혹시 그 드라마 안 하면 안 돼?" 우연이는 불쑥 물어보았다. 그 말을 듣고 바로 화가 난 표정을 지은 기정이는 한 발 한 발 일부러 천천히 다가왔다.
"오랫동안 못 본 사이인데 '잘 지냈니'라도 물어보면 안 되나? 응? 넌 너무해, 우연아. 난 그 드라마의 주인공이 되고 싶어서 일부러 왔잖아."
숨이 막힌 우연이가 한 걸음 물러서서 또 물어보았다.
"뭐라고?"
"내가 오면 널 다시 볼 줄 알았어."
이제는 기정이가 아주 가깝게 다가와 있어서 우연이는 벽에 등을 대고 눈을 내리깔았다.
"어떻게? 어떻게 알았지?"
"바로 알았지. 그 웹툰을 매주 봤는데 느낌이 왔지. 작가는 당연히 우연이 너라고. 사랑하던 내 전 여친의 스타일인데 어떻게 모를 수 있겠어, 어? 그런 거 말이 돼?"
"근데 너-" 온몸이 떨리는 우연이가 망설였다. 상상 이외의  이 상황이 믿지  않았다. 꿈이었나? 어떤 꿈인가?
문득 말을 멈춘 우연이를 바라보는 기정이가 잠시 기다렸다는 듯이 말했다.
"근데 뭐?"
우연이는 생각할 수 없어서 더 망설였다. 좋은 꿈인가, 악몽인가? 아직 알 수 없는 것이었다. 아까 오디션에서 본 그의 심각한 표정으로 아직 사랑한다는 고백이 떠올랐다. 우연이는 우물쭈물 말했다.
"너 -넌 연기….잘하네."
기정이가 한 손으로 벽에 잠시 기대서
우연이를 내려다보고 신비스러운 미소를 띠었다.
"연기 아니었잖아."
기정이는 몸을 휙 돌리고 휴게실에서 나갔다. 혼자 남긴 우연이는 충격에 빠진 듯 바닥에 고꾸라졌다. 그의 말이 아직도 들리는 것 같았다.
연기 아니었잖아.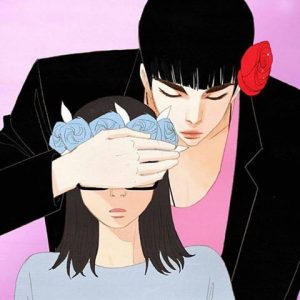 ______
작가의 말:
This is a fan fiction of the webtoon Spirit Fingers produced for my Korean independent study project. All images and characters are credited to the original webtoon artist. Please enjoy her work here!
오호 이제 재미있는 것이 드디어 시작된 걸까요?
이번에도 읽어 주셔서 감사합니다! 코멘트 부탁드려요~^^
에피소드 3의 OST: