안녕하세요!
My final semester of undergrad was filled with research, thesis writing, and numerous academic and side projects that prevented me from blogging consistently – so I went on hiatus from 서울드림. Now that classes are over, I'm about to graduate, and I'm back to intensive self-study of Korean, I thought I'd share some of what I've been working on – particularly the creative writing project that I completed for my independent study course for Korean. I plan to become a published author in both English and Korean, so it's about time I wrote something longer than poems and super short stories.
Side note: if you're looking for an American university with an awesome Korean language program and opportunities for studying in Korea, check out the University of Michigan. S/o to the best four years of my life.
My friend and I, both non-Koreans, participated in this independent study at our university in which we had to write nine episodes of a fan fiction story in Korean. The regular course was offered to heritage speakers (Korean-Americans) but we completed the fan fiction portion of the class as upper-intermediate Korean speakers doing an independent project. We both happened to choose webtoons as our inspiring works. We wrote an episode a week – nine episodes total – and uploaded our work to the Korean Language Program's fan fiction blog where other students could read, rate, and comment if they chose.
But what fun is it if I can't share my writing with my 서울드림 followers? I can't promise incredibly eloquent writing or shocking plot twists (I was severely limited by time in creating each episode), but I can promise that it's a fun, young love-themed read, especially if you're already a fan of the webtoon 스피릿 핑거스, or Spirit Fingers. Look out for a new post tomorrow and each week after with a new episode!
Thanks to my awesome boyfriend's help and comments from my Korean 선생님 who oversaw this independent study project, I can guarantee that the Korean in my fan fiction is mistake-free. If you find a mistake, it's all my fault. I probably changed something at the last minute and didn't check it with someone who actually knows Korean.
#impostersyndrome
Here's what you might want to know about my Spirit Fingers Fan Fiction: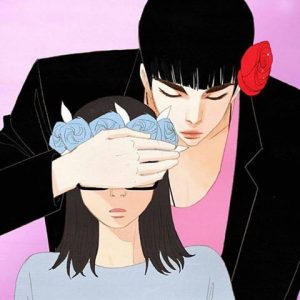 원전/원본의 제목: 스피릿 핑거스 (글과 그림: 한경찰)
원전의 장르: 한국 (네이버) 웹툰 – 로맨틱 코미디
원전의 개요: 송우연은 원래 평범한 여고생이었으나 우연히 "스피릿 핑거스"라는 그림 모임에 들어가게 되고 점점 더 특별한 자기를 알아 가게 된다. 우연은 우연에게 잔소리가 심한 어머니와 사이가 좋지 않고 자신감 없이 공부만 하는 학생이었다. 스피릿 핑거스의 회원인 블루 핑거(구선호)에 빠져 우연은 그림 모임인 스피릿 핑거스에 들어가게 되고 착하고 따뜻한 멤버들과 지내면서 우연의 마음속에 있는 아름다움과 자신감이 조금씩 조금씩 생긴다. 하지만 또 다른 멤버인 민트 핑거(남그린, 남기정의 누나)와 블루 핑거가 서로 좋아하게 되고 쇼핑몰 모델로 활동하는, 뜻 밖의 인물인 레드 핑거(남기정)가 우연에게 빠지는 등 삼각관계가 시작된다.
Fan Fiction Synopsis: 
등장 인물: 송우연 & 남기정


조연인물:
다른 스핑 멤버들: 남그린, 구선호, 핑크 (아줌마), 블랙핑거 (30세쯤), 카키핑거 (20세), 브라운핑거 (40세)
송우연의 친구들: 조미래 (대학생), 염세라 (대학생)
남기정의 친구들: 변태신 (모델/배우)
장르: 로맨틱/코메디 드라마 & 소설
임시 개요: 평범한 여고생이었던 송우연은 우연히 "스피릿 핑거스"라는 그림 모임에 들어가게 되고 특별한 자기 정체성에 대해 알게 되었다. 처음에는 민트 핑거(남그린)가 좋아하는 블루 핑거(구선호)에 빠졌었지만 결국 쇼핑 몰의 모델로 활동을 하는 레드 핑거(남기정)와 비밀스럽게 사귀게 되었다. 기정은 연애 사실을 비밀로 하고 싶어하지 않지만 평범한 디자인 대학에 들어간 우연은 기정이 모델로 유명하게 되자 계속 비밀로 하고 싶어한다..일년 후 둘은 헤어지게 되고 기정은 배우가 된다. 대학을 다니는 우연은 몰래 웹툰을 만든다.. 3년 후, 이 팬픽션의 내용이 시작된다. 4학년생 송우연이 그린 웹툰은 대박이 나고 드라마로 만들어져 드디어 배우가 된 기정을 다시 만나게 된다….왜냐하면 드라마 주인공으로 연기할 사람은 바로 기정이기 때문이다.. 또, 구선호와 남그린도 드라마의 촬영을 돕는 스탭으로 일을 한다! 헤어진 커플 우연과 기정이 과연 어떻게 될까?
---
Well, until tomorrow, and Episode 1!
방문해 주셔서 감사합니다.
지금 재생 중: